Flow-through Humidifier
The best way to humidify your home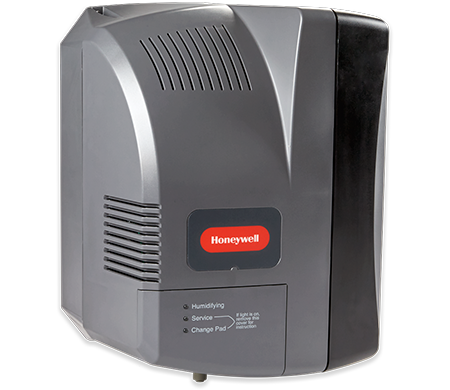 Desert-dwellers, unite! It's time to do something about the dry, staticky, uncomfortable air in our homes. You probably already know that low humidity leads to a laundry list of health and home maintenance symptoms, but did you know that it directly affects your comfort, too? Proper humidity levels deliver a healthy indoor climate and prevent your HVAC system from working so hard, which saves you money and lowers energy waste. A properly humidified home just feels more comfortable, too.
With the proper level of humidity in your home, you will feel more comfortable and breathe easier. You can eliminate that dry eye, nose and throat feeling you have when you wake up in the morning. Humidity also reduces or eliminates static electricity. It protects the investment in your home and your furniture because proper humidity prevents wood from cracking and peeling.
A flow-through humidifier can be easily added to any forced air heating system. The advantage with this type of humidifier is that it provides humidity without breeding or spreading mold or mildew. This is in contrast to the humidifiers that use a reservoir where water can stagnate--a perfect environment for mold and mildew growth. A flow-through humidifier is easy to maintain. It has no moving parts and is designed to operate with no mineral or mold buildup.
Dry Air Symptoms Plague Vegas Homes
Do these dry-air symptoms sound familiar? If so, you may need a whole-house humidification system.
Persistent allergies, asthma or respiratory illness
Nosebleeds & irritated sinuses
Cough & sore throat
Dry, itchy skin & lips
Frequent static shock
Cracked, bowed & warped wood floors & furniture
Other household damage
Humidifier Installation & Repair
Century Air, Inc. recommends and installs whole-home humidifiers by Honeywell and other leading brands. These innovative IAQ products work in conjunction with your new or existing HVAC system, delivering humidity levels that are "just right" and circulating moisture even when your cooling or heating system isn't running.
Our Comfort Champions install best-in-class humidifiers and indoor air quality products that enhance your comfort, purify your air and create the perfect indoor climate. When we arrive to install your equipment, we take exceptional care of your home and furnishings, clean up meticulously—and work around your schedule to prevent household downtime. Ask about our year-round maintenance agreements that keep equipment in tip-top shape between visits, too!
Advantages of Century Air Humidifiers
Benefits of Century humidifiers include:
Optimal indoor comfort during brutal heat, cool temperatures & miserable dry-air days.
Improved energy efficiency. Regulated humidity levels prevent your HVAC system from added use and costly wear and tear.
Healthier home & furnishings. Dry, staticky air sucks the moisture out of your home, which can damage furniture, flooring and other wood.
Simple maintenance. A whole-house humidifier doesn't require the same level of maintenance and refilling as portable systems, and Century Air provides annual maintenance plans that take care of everything.
Smart control options that allow you to turn humidifiers on or off using a convenient companion app.
Leading warranties & product guarantees from manufacturers and the Century team.
Schedule a Las Vegas Humidifier Consultation
You should be able to breathe easy in your home—without frustrating dry-air symptoms. To request a no-obligation humidifier estimate or speak with our team about air quality solutions that keep your family healthy and comfortable, contact the Comfort Champions today! Dial (702) 649-9345 to speak with a Century air quality specialist.